Here are the first five, hopefully will get to the second five soon enough…
Hellraiser 2  
Man, so Hellraiser 2 is basically perfect. When people praise Clive Barker's series, and they rarely do these days compared to other franchises, all they are praising is in this movie. While the first Hellraiser is actually a much smaller, weirder movie than you'd imagine if you haven't seen it, the second is this incredible, insane commitment to making everything work that shouldn't.
It's this massively overblown, baroque exploration of power and sex, set, for plausibility-stretching reasons, hours after a claustrophobic, gothic exploration of mutually-destructive relationships, expanding an impossibly rich world from what was barely hinted at in the first movie. 


Hellraiser was what happened when hell comes to you but they make the seemingly much more conventional concept of you going to hell even more disturbing and mind-bending. Hellraiser 2 could have been the most poorly-judged, campy piece of shit in the world by making the kind errors in judgement, tone and execution that are  rife in its successors (some of which, contrary to the word you hear still have their moments ). But it isn't. Instead it takes wields its camp, its rage and its perversion with zero mercy and complete self-assuredness creating something that plays like a best-of mix of some of the most disturbing and fantastical gulliness the movies have ever seen. 


Sure the story is a bit dumb and nonsensical and the stop motion leaves everything to be desire but the atmosphere and the enduring images are so numerous the experience of watching the film is complete sensory overload. 

I mean, Hell is a matt painting in this movie and it's still the most disturbing shit ever. Yes.
Angst
Angst is a grim and simple movie that plays like repeated blows to the face and abdomen. Clumsy violence is routinely effective in horror movies, something Angst makes its focus by having all of the killer's actions part of a spur-of-the-moment frenzy.
All of the murders fell unplanned and desperate, there's none of the impressive physical feats or planning you'd usually associate with movie killers: just brutish, dehumanising murder committed with awful lust. What really sticks in the viewer's mind after they watch Angst, however, is how doggedly the movie makes you live every awful second inside the killer's mind.
Again, this serves the exact opposite function it would in most horror movies, far from turning the villain into a rootable-for anti-hero, Angst needs you to be repulsed by the unstoppable, overpoweringly-sexual lust for violence the main character completely submits to before he even leaves prison. It forces you to see ever character he meets as a victim and makes you acutely aware of how excited the killer is by this. It's almost as hard to stomach as the murders which, to this day, still exist in their own special realm of disquieting dehumanisation. 
Angst is also based on a real story, that of the murders of Werner Kniesek, but lifts direct quotes from the testimony of other serial killers and uses them for the Killer's narration. This only adds to the weird, hyper-reality-through-distorting-reality path that Angst stamps out, telling a true crime story with occasionally giallo-like and always crazy camera work, all while resolutely remaining its own hopeless creature.
Klaus Schulze's cold mechanical score provides more detachment and further off-sets whatever conventional enjoyment an audience may think they can wring out of the movie.
The voice-over in Angst is also connected but not related moment-to-moment to what's going on in the film, similar to Rick Veitch's weird poetic graphic novel Can't Get No. In Angst it mirrors the content of the dialogue creating something alienating from what should make the killer more relatable.
The Thing


Hey dudes, it's The Thing. C'mon now. 

DeathDream (AKA Dead Of Night)
So DeathDream is an extremely weird, depressing and minor-feeling movie about grief and PTSD. It also has one of cinema's better undead citizens: a young, dead solider named Andy Brooks who turns up at his family's doorstep after his mother meets the telegram announcing his death, which opens the movie, with flat denial.
What follows is the slow escalation of Andy' unhinged behavior twinned with the awful realisation Andy's family has: that there is a dead man sitting in their home tearing their lives apart, which unfolds at a similarly funereal pace. One of the things horror does best is simple parable and Deathdream is at once one of the most low-key and the most heart-wrenching. 
Though Deathdream could have worked perfectly well as an episode of the 80s Twilight Zone its feature-length running time gives it time to breath and, oddly, makes the story much more oppressive by letting the creeping dread fester. Signs of Andy's growing threat are so awkward and real-seeming and are doled out in such sparring measure that you can't help but feel on edge about what he could do. Meanwhile the real horror is a much more banal and much easier to recognise: a family buckling under the weight of unbelievable grief. 
The 10 minutes or so of Deathdream is a screaming downward spiral from impossible terror to unspeakable sadness. It gives you this terrible, perfect end to what came before it and will stay with you long, long after much more amibitous movies will have faded from your memory.
Miracle Mile
Every single time you ask someone about their favourite horror movies they have to have one stunt addition to the category. Nothing makes a list-drafter feel more like John Kelly, Snake Eater than having a choice that goes all the way outside the box and takes a little detour along the way to BLOW SOME MINDS, YOU FEEL ME?! Like if you ask some old man what the scariest horror movie he's ever seen is and he's all "oh yo, the nine o'clock news" 
Anyway, what geeks talk about when we talk about Miracle Mile is, universally, the startling tone shift than happens 20 minutes or so in when it turns from a whimsical, awkward indie comic with Hal Hartley-esque visual stylings into a movie about the abject hysteria and inhumanity that greets the news of imminent end of fucking world via nuclear annihilation.
The thing is, though most people seem satisfied to harp on about that, it's how this change is handled that makes it so disorienting. How this revelation kicks off a wrong number call to a pay phone that our hero picks up reveals the Japanese are planning to attack, is around wacky as the preceding running time, as is the cast of characters it that meets the news first. But it is peppered with real desperation and mania. As the movie continues this mix becomes more jarring and, somehow, more indivisible. The acts of violence and degradation in the movie are grim and unrelenting and the humour supplies zero relief.
All of the whimsy starts to look really cruel in the face of exponentially increasing widespread panic. It's not one tone shift that makes Miracle Mile so shocking, it's many and, even more so, how by the end both seem to be playing the same terrible note.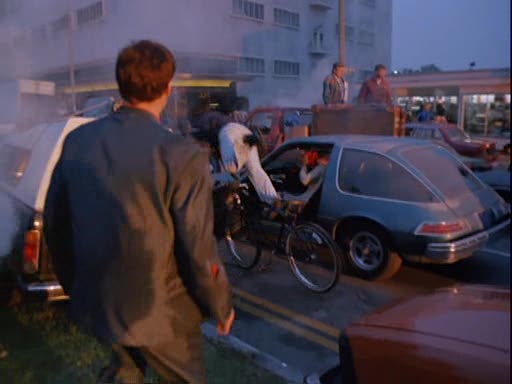 That doesn't even cover the too-terrible-to-imagine idea that gnaws at the hero throughout the movie that maybe the call he got really was a prank and his initial reaction was the only thing to spark off the madness and death from which he is trying to extract himself and his date.
Miracle Mile is like having your face rubbed in the idea that no matter how happy, dippy and disney-like your situation is you can suddenly be helpless and surrounded by hurt people in a hell on fucking earth that could quite possibly be of your own devising. Fuck your happy little place. 
Honourary "left of field" non-actual-horror-movie choices: Safe, Hell House, Small Town Ecstasy, Tyrannosaur, that bit in Happy Go Lucky and Dead Man's Shoes.